Colleyville Kitchen Remodeling Contractor
It can be hard to weed through all the kitchen remodel contractors out there. How can you be sure a company is worth its salt when so many promise superior service and great design? One way to know for sure is through references. 
A company that won't provide you with these is a company you shouldn't be associating with—who knows what they're hiding, after all At Barrington One Construction, LLC, we're proud of the work we've done over the years. 
We can provide you with any references you require to be fully confident that our service is right for you. Don't take our word for it ask our customers and read their reviews!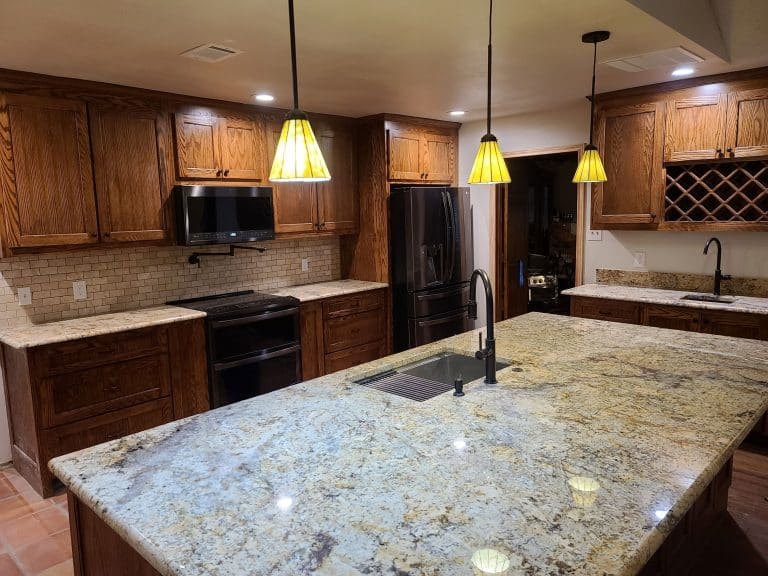 Kitchen Remodeling Details
Most people spend many hours in their kitchens eating, cooking and enjoying the company of their families and friends. When it is too small, impractically built, or just plain old and outdated can put a damper on enjoying your life to the fullest. Have you looked at a magazine kitchen picture and wished yours could look that way? 
Well don't dream anymore, contact Barrington One Construction, LLC to begin your journey towards your ideal kitchen. 
We are the premier company in the Colleyville area because of our dedication to our clients and to quality craftsmanship. From the design process to final installation of surfaces, we will take care of every detail. Our experience means that you can trust our experts to provide not only great work but great advice as well.
Kitchen Design for Colleyville
Do you have very specific ideas about what your kitchen should look like? Bring us all your ideas and materials, and together we will execute them. With our knowledge of the best materials and your design ideas, your remodeling experience is sure to exceed your greatest expectations. Colleyville kitchens have to be a mix of aesthetic appeal and functionality so figuring out the best way to have the kitchen layout and what extra features to add in is a fun challenge to undertake.
At Barrington One Construction, LLC, we understand that growing families have different needs than those of a couple with no children and we can provide design options for every type of family. From colorful backsplashes, and countertops to new kitchen cabinets we have the expertise to create an atmosphere you will love to live in. We always strive to deliver every Colleyville kitchen remodeling project on time and on budget so you can get back to living and enjoying your home.
We also find it important to provide great client care with friendly and welcoming kitchen remodeling contractors who always clean up after themselves and keep your home clean during the kitchen remodel. For all these reasons and more, if you are considering renovating your space call Barrington One Construction, LLC today!
Remodeling a kitchen is one of the best ways to increase property value. Hiring the right kitchen contractor ensures that your finished product is up to code and at a standard of quality that you can appreciate. Barrington One Construction, LLC offers design assistance as well as a comprehensive experience performed by insured kitchen professionals.
The Complete Home Remodeling Experience
The media has hundreds of examples of contractor horror stories. Barrington One Construction, LLC has always been driven to demonstrate that we are a step above our competitors. We will never take a project that doesn't have the budget to be completed thoroughly, and we will never leave a project unfinished.
If you want your kitchen to look like it popped off the cover of a magazine then you need a professional, informed touch. Choose the contractor that best suits you, choose Barrington One Construction, LLC because we provide Colleyville residents with incomparable service, and our numerous repeat satisfied customers speak for themselves.
Contact Barrington One Construction, LLC Today
If you have any other questions or would like to schedule a consultation, get in touch with us today. A member of our experienced team would be happy to go over everything with you and provide you with a free no-obligation quote for our work. Discover the difference that's tailored to you!