Barrington One Construction, LLC
Home Remodeling Fort Worth | One Call Renovation Contractor
"Our Customer Service and Quality Craftsmanship Comes From Three Generations of Family Tradesmen"
 Barrington One Construction, LLC efficiently takes you from design to completion, saving you time, stress, and money. With over 30 years of experience in home remodeling in Fort Worth, TX. We are a true one-call home renovation contractor.
 Having an established interior remodeling and exterior remodeling company together gives you flexibility with no limitations. Every feature of your home inside and out ties together, so your remodeling contractor must know how your entire home, is assembled; it's the beginning of any great design.
 Owner Carl Barrington has been in business since 2006. With his building and home remodeling experience, Barrington One Construction, LLC can design your project or take your ideas and create that perfect remodel you always wanted. Our expertise means success is not only possible but expected. In addition, we have access to supplies and trades as an established company, giving you the most from your budget.
 We take every bathroom remodel to the next level. Many options are available to make any small space functional. Large bathrooms come with more opportunities to bring the design together with additional cabinets, countertops, fixtures, and flooring selections.
 Your new kitchen will welcome guests and help prepare meals easier. New layouts, adding an island, pot filler, and lighting can make the task of cooking fun. Features like lazy-susans, pull-out spice racks, and soft closed drawers and doors are essential for most homeowners. We make room for every inch of available space. Using all or some of these options means your kitchen will be up to date for a very long time. Visit Pinterest or type into your computer's browser, bathroom, kitchen, or room designs in Google images to find great remodeling ideas.
Call Us Today For Any Exterior or Interior Remodel. All Large And Small Projects Welcome!
Qualified and Experienced General Contractor
 The fact is that you need an experienced general contractor to keep your project running on time and with the results you expect. Specialist trades or sub-contractors charge an initial fee built into the bid to manage and create a functioning schedule; why pay every trade to organize and oversee your remodel project?
 With a single general contractor, you only have to deal with one person who communicates all of your details to the workers, saving you unnecessary hassles due to over-hiring so many sub-contractors. We want to earn your business and be your general contractor now and into the future. See why you should hire a general contractor.
Remodeling Your Home
  Your remodel needs to look like it was built with the home and not added on or look patched. Communicating with too many outside opinions and views can distract your vision. Your remodel project is yours and should not be a combination of different "expert ideas" from trades who are not qualified to be in your home especially when disassembling important structures.
 We will give you the residential remodel you are looking for. High-end or low-budgets, we offer the same high-quality customer service and craftsmanship on every job we do. 
  Frankly, when you have the experience and discipline of being in the industry for many years, it would take us longer to do a job the wrong way. We are highly trained and efficient in all manufactures specifications and proper installation procedures.
The Need for a Renovation Contractor
  Are you happy with the look of your home? Does your existing bathroom give you a sense of peace when you take a shower? Is your kitchen design set up so it is both functional and beautiful? Is your home a place where you, your friends, and your family can comfortably spend time? Do you have a home patio, cabana, or deck to enjoy the long warm days in Texas? Is your home large enough for your needs? 
 Having a newly renovated home custom built for you and your family is an experience of enjoyment, and it's an investment in the future value of your entire home. The most comments I receive are "we like the neighborhood but not the home" and a new home is not in the area we like. A good home remodeling contractor will meet your styles and tastes, not someone you purchased the house from. 
Your Home is Your Castle
  Your home is a place of rest and retreat from the hard day's work, but does it inspire and relax you?  We know buying the perfect house is often not possible; that's when you need remodeling! Finding the right remodeling company is crucial to the design and function of your home. 
 Making the right material selections to complete your project takes planning and thoughts that only an experienced company could offer. Care into every detail is the hallmark for any custom remodel.
Materials Selections and Design
  Barrington One Construction will guide you with our experience in design, working with you learning your family's everyday needs, and crafting your requirements into the plan for the right results to serve both beauty and function together; few contractors have that insight. Making your remodel unique and up to date takes experience. 
  The combination of knowledge, material selections, design, a good plan, and a full follow-through is required for you to have peace of mind knowing your project was not only designed for your home and style but constructed with quality materials that will last a long time. 
Our Techniques

 
  Are you concerned that your project will result in unseen issues once the building begins? Barrington One Construction, LLC walks with you on every project, ensuring that you have the information and solutions you need. We often see potential problems at the estimate, not when the work has started. 
  We take great care in protecting your home with dust elimination methods and coverings for your items and floors. When we are done, your home is clean!
  Our techniques to ensure your satisfaction has been in place for many years. With our home remodeling process, we are there for you every step of the way to prepare you and protect your investment during and after the job is complete. 
 An efficient and professional remodel contractor is crucial when dealing with tasks, foreseeing complications, and preventing delays. Barrington One Construction, LLC is exceptionally diligent in providing quality customer service to realize your vision.
 Remodeling The Right Way
  The old saying goes that you get what you pay for, which applies to home remodeling. Although we understand it's tempting to take the lowest bid and cross your fingers that you're remodel will be done right, last a long time, not look unsightly or have to be rebuilt a few years later, this re-do is not only another stress, but it can end up being the costliest mistake you could have ever imagined. What seemed like a good deal at the time can quickly turn into a nightmare. However, there are some things you can control.
 Important Steps to Ensure a Successful Project
Be sure you have a written contract, and if you have questions, you should get clarity without the hassle. Contracts ensure your remodeling contractor will adhere to the promises and specifications he made during the sale.

Remodelers should have at least 20 years of experience and know all aspects of construction, including foundation and mechanical. Find out if they only know some tasks your project may require or if they can back you no matter what you decide to remodel.

A contractor should always protect furniture, cover any items needed, and keep the job clean. Often there are occupants during the renovation.

If a contractor does not show up for the estimate or return calls, he will most likely not do so when working on your remodel. 

Your contractor should always be respectful and courteous.

 Ask for a copy of insurance with the amount of their coverage and check the date of the document to be sure it has not expired. We carry a standard 1 million insurance policy and can obtain additional coverage for the homeowner if needed. 

You can be creative in remodeling, but the finished work should tie into the original construction's central home theme, style, and period to maximize your return. Our material designers can make a beautiful design for almost any idea and decor if you are adventurous.
What We Do
  We work hard to maintain a direct connection with all the needs you and your project will require. We strive to do and achieve by showing up on time and working every day until the job is complete. Once you hire Barrington One as your home contractor, the best pros in the business handle your project. 
  You will get updates and know what is getting done. If a living change does happen, you will have prior notice of any disturbances that may arise. For example, if your power needs to be turned off you will know ahead of time and plan accordingly.
  Our knowledgeable contractors treat your remodel like our own home, and we maintain tight schedules until we are finished. A happy customer means we are doing our job and delivering our services as promised. 
 Your home remodel is something you will live with for a long time, and we understand this. We succeed in communicating the result with you during your first detailed estimate and throughout the project completion. We work with you until it is done.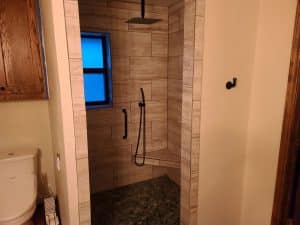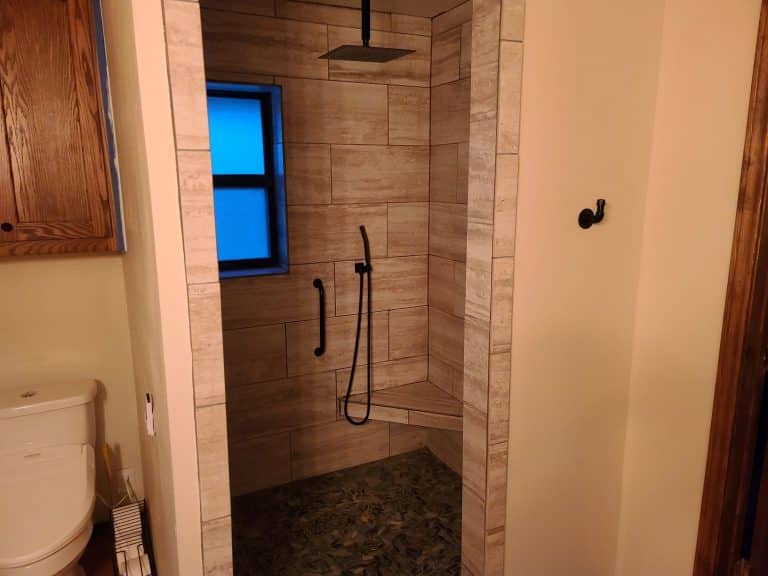 Our bathroom remodels are crafted with quality tiles, countertops, cabinets, and fixtures. With our experience, we quickly finish every bath renovation with superb quality for any budget.
We work hard to get every detail the way you envisioned, including the locations of any accessories. The proper layout works best for you and your family members.
We don't just remodel your bathroom; Barrington One makes your home luxurious. Whether it's a big or small bathroom, we give your project the perfect touch giving you a beautifully designed bathroom you can enjoy every day.
General Contractor Services
Barrington One Construction, LLC has offered outstanding general contractor services for over 16 years in Fort Worth, TX, and surrounding areas.
We stand with our customers by quality customer service. Customer satisfaction and quality craftsmanship have always been our trademark.
The key to a successful design is a general contractor committed to great products and who possess the drive to exceed expectations.
As a qualified home remodeling contractor, we deliver the results and expectations you require.
We are committed to working toward your goals and dreams for not only a beautifully built renovation, but one that you can show to your friends, guests, and family!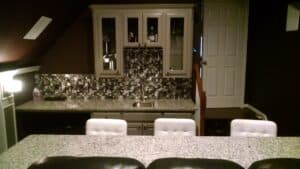 Our projects are built with proven designs and appliance layouts. As a result, we can develop your ideas into a functioning remodel.
 We take the time to understand the kitchen remodeling design you require for your everyday needs and making the most of your budget and room available.
 Kitchen cabinets today come with many great features for storage which makes it easier for you to work in your kitchen. Sturdily built cabinets with 50 lb. ball-bearing drawer slides are our standard.
        Remodeling Services
  Barrington One offers a wide range of home remodeling services. We do this because our many years of experience have allowed us to specialize in all the trades giving you a seamless and professional product every time. 
  Most companies concentrate on only one or two areas of your home, but you may need services surrounding those areas. 
 For instance, if you have a bathroom remodeler in your home and there are structural issues or electrical troubleshooting or maybe a specific plumbing route needs to be confirmed and installed, will they make the right decisions and resolve them quickly and stay within budget?
  We do not operate under the assumption that things will work out; with Barrington One Construction, LLC, everything is in-house, and we have the best remodeling professionals for your home.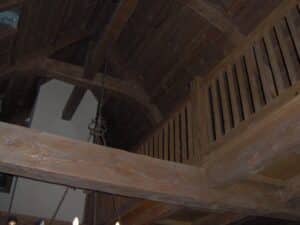 This interior home remodel style includes a beautiful beam and timber, a great room constructed by some of the best craftsmen in the business. As one of our favorite projects, it offers many inside features we built throughout the home. 
 The exterior includes hand-carved timber, a custom roof balcony, and a cupola: beaded board porch ceilings and cedar trim. So even if you have a small, simple job, we can make it beautiful.
 Trusted and Reliable Services
   As a Fort Worth general contractor Barrington One Construction, LLC can work with you from start to finish.
  We know that an excellent customer service experience requires going above and beyond. So we stand by our reliability further with a Fort Worth A+ BBB ranking.
 With experience comes value and our knowledge is your asset. Our remodeling experts can craft your project and grow your investment.
  We are detail-oriented and focused on your goals, and we offer our home improvement system for you to use to make your project your own.
  Look into some of our services for more information about the project you want to design and remodel. We make any house a home!