Fort Worth Kitchen Remodeling 
   At Barrington One Construction, LLC, we have provided Fort Worth kitchen remodeling for many years. Our focus is on giving each of our clients the highest level of customer service and craftsmanship. 
 When you're looking to enhance the appearance and functionality of your kitchen, the design process is the footprint. But, following through on the decisions makes a successful remodel a home.
 Our Kitchen Designers
  When it comes time to select your materials, we offer materials designers that walk you through the project with the experience to create your vision. For example, your home's kitchen is so much more than a place to prepare meals. Our designers know your new remodel has to be right – it is where your family gathers to socialize, unwind, or hang out.
  Functionality and appearance are essential. Even small changes, like new cabinets or countertops, can have a considerable impact. Whether looking for minor upgrades or completely changing your layout, we have solutions for even the most demanding designs. Pinterest is a great way to go through many ideas and pictures.
  Making a folder for each selection; tile, cabinets, backsplash, countertops will make your choices more organized. Saving your options will make each meeting more efficient and ensures that the final product is what you have envisioned. 
  It takes planning to reduce the work in selections. We do this by showing you as many samples as you need with the fewest trips are possible. Your time is essential. Hence, we organize every stage so you can concentrate on the selections and not the process.
  Kitchen remodeling can be a challenging task. Besides the color schemes, you also need to think of the best layouts for you and your family's everyday needs. That is where specific steps efficiently bring your ideas to a final product using the best choices for your budget without sacrificing quality. There are different looks from the country and comfortable to modern designs with the latest technologies and upgrades when it comes to style.
 We offer the following services:
Custom Countertops – Granite, marble, soapstone, slate, quartz, stone, stainless steel, and more.
Flooring – Vinyl, tile, laminate, hardwoods, hand-scraped, distressed.
Lighting – Under cabinet lights, chandeliers, island lights, led recessed lights, outdoor fixtures.
Detail work – Painting, molding, woodwork, trim, doors, fireplace mantles.
Cabinet installation – Custom cabinets built and delivered with a variety of wood selections.
  Barrington One Construction, LLC makes your dream remodel precisely how you envisioned. Getting the job done right, on time, keeping your home clean during the process, and making the process as pleasant as possible is what we strive for and deliver.
Remodeling on a Budget
  On a budget? No problem, we have the best mid-grade materials that you can buy. Installed with the same skilled remodeling procedures as we use on our higher-end projects.
 No matter how much you have to work with, we offer value in every project. We do plan out and build what you want.
 If you live in Fort Worth or surrounding areas and want a team by your side that can bring the best out of your kitchen space, give us a call today!
  Have a busy schedule? Then we will work with you to set an appointment that is convenient for you. Customer service is our commitment. We want to be your company today, tomorrow, and in the future.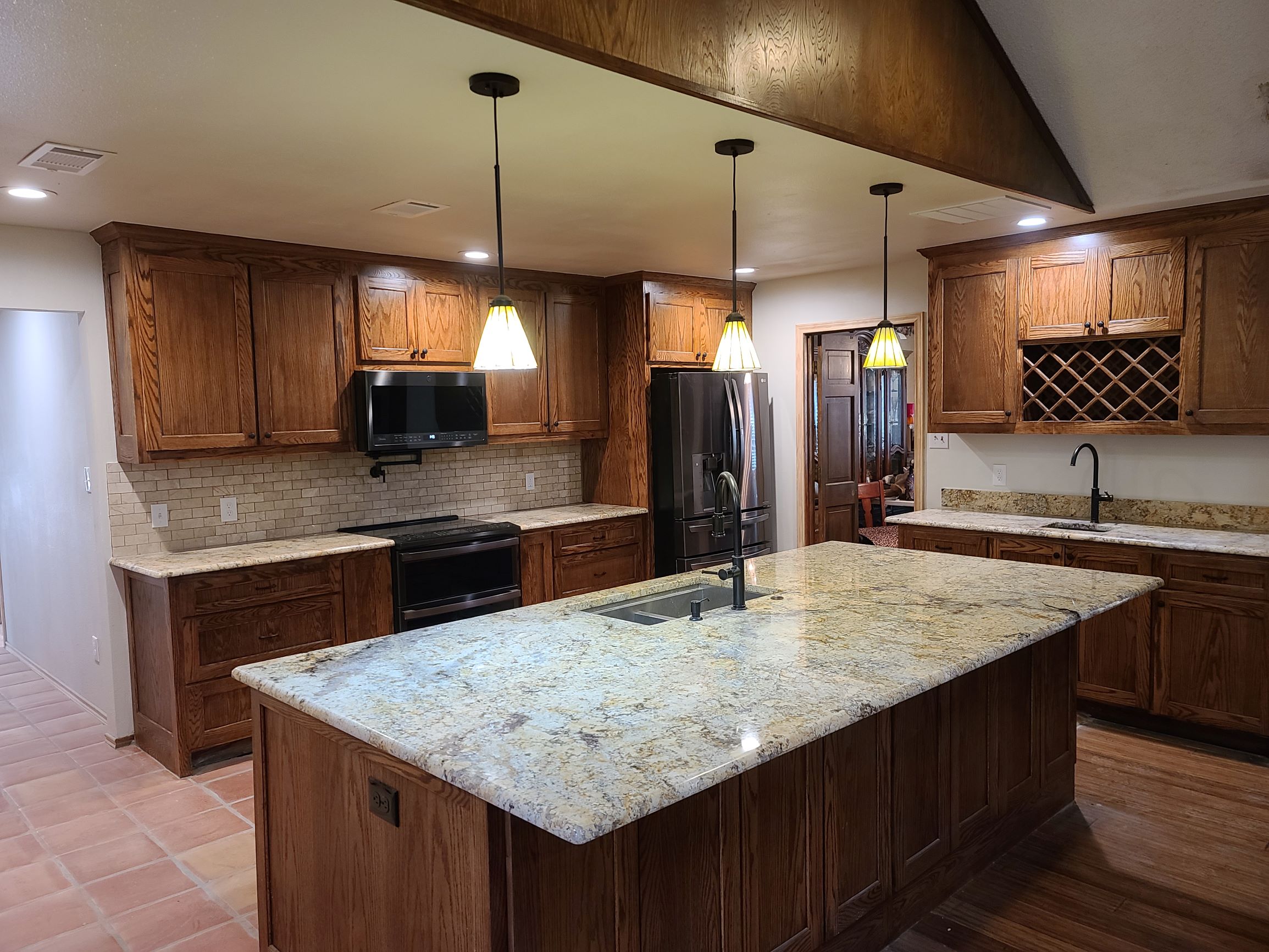 Quality Projects
  Your kitchen investment and quality installations are essential to retaining that value. Having some low ball offer may seem like you are getting a great deal, and sometimes it's not apparent to see the imperfections. Your contractor may hide them and guide you away as much as possible just to get paid quickly. There is nothing more disappointing than to find that the investment you paid for has no quality at all.
  Cabinet drawers and doors that are falling apart or your tile being hollow from not being installed incorrectly, you may not realize it until you drop something on the kitchen floor and the tile cracks. Good quality tile work with thin-set that covers the entire tile prevents such damage.
 Countertops that look beautiful at first glance may have cracks resulting in chipping not long after install. 
  Plumbing may not have been installed with solid joints and the right plumbing elbows to drain water faster. As a result, installed mold or damage incorrectly to your new floors and cabinets can happen.
  To prevent issues, ask for references and look at their work before hiring a remodeling contractor. In addition, your contractor should show you their insurance, and be sure to check the date. Some contractors will let their insurance expire, putting not only your job in jeopardy but also your family. This kind of abuse is uncalled for and unacceptable. You deserve to have the best contractor and nothing less.
  Suppose you have had the wrong contractor in the past or have never experienced a kitchen remodel before. In that case, it is essential to ask questions. A good kitchen remodeling company will answer your questions and provide information before you even have to ask.
 At Barrington One Construction, we have the skills, experience, and satisfied customers to deliver quality results. Again, we exceed client expectations with the proper installation that will last for many years. Contact us today for a quote on your remodeling project!
Find out why we have an A+ rating with the BBB of Fort Worth.
Contact Barrington One Construction, LLC For a Quote Today!