Tile Flooring Installation Services
 Installing tile seems simple enough but actually, many steps must be properly followed by the installer to meet manufacturer's specifications. If your tile installer does not follow the right installation process, the installation will fail and the time and money you invested will be at risk. Your stress and time are worth more than saving a few hundred dollars.
There is nothing more frustrating to any homeowner than to choose the perfect selection and in a few months to a year, the product starts to crack, come loose, grout wears and your beautiful new flooring is now an eyesore. What's worse is not only do you have to re-install a new floor but the existing tiled floor has to be removed and then you may find that the perfect tile you spent time ordering and wanted has been discontinued. Because of its use in daily walking a badly installed floor is one of the most common problems facing homeowners.
 Required Steps and Procedures
The good news is you can find a quality tile contractor, but how can you know if they are the right contractor until the work has been done and the warranty runs out? If you are facing a bad install make sure your contractor assesses the damage and explains why the product has failed to begin with. Some signs you need to look for are;
Has the existing tile flooring been laid on top of a wood floor? if so, did they install a concrete backer board? 1/2″ thick is optimal but in some cases, you can use 1/4″ if you have a height restriction and if the tile floor does not have a lot of movement. Sometimes 3/4″ plywood has to be installed over tile floors first.

Does the backer board have an expansion gap if butted against another surface?

Has the surface been cleaned before the tile was installed? Dust and debris can affect the adhesion?

Has the tile been laid on a concrete floor? If so, does the foundation have sufficient piers or is there any cracks present? if so, an anti-fracture membrane must be installed under the tile before installation is even started.

Is the surface level? Sometimes the floor has to be floated to ensure a level floor.

Is the thin-set, the mixture that the product is set with, does it cover the entire tile? This is required. On larger pieces the back of the tile has to be buttered meaning thin-set it applied to the back of the tile and the floor for proper adhesion. 

Does the thin-set have enough applied? Are there dried ridged on the failed installation, there should be noticeable ridges at least 1/8″ thick minimum and cover the entire surface.

If the grout has cracked it could be that it was not mixed properly, not enough water or too much water when mixed and they had to add more grout which weakens the mixture. Was it mixed long enough and allowed to sit long enough?

Was the right trowel size used to spread out the thin-set? Generally, the larger the tile the bigger the teeth need to be, but some tiles have natural cupping so you must allow for the cupping with a minimum of 1/8″ of thin-set is under the tile after it is laid. Also, you must visually check the tile by pulling it back up on the first tile, Is all of the surfaces covered properly?
Proper Installation of Tile Flooring
 The proper installation of your floor must meet these requirements to have your chosen product last for many years. Some installers skip some of these steps or all of them, it depends on the tile contractor and how much knowledge he or she has. 
Most of the time the floor is not installed correctly because the installer just does not know how to install quality floors.
Some just want to cut corners knowing the product will last just long enough to pass a year warranty.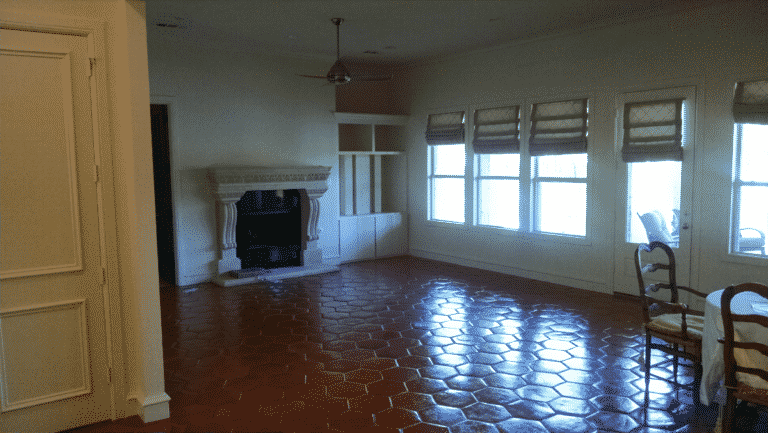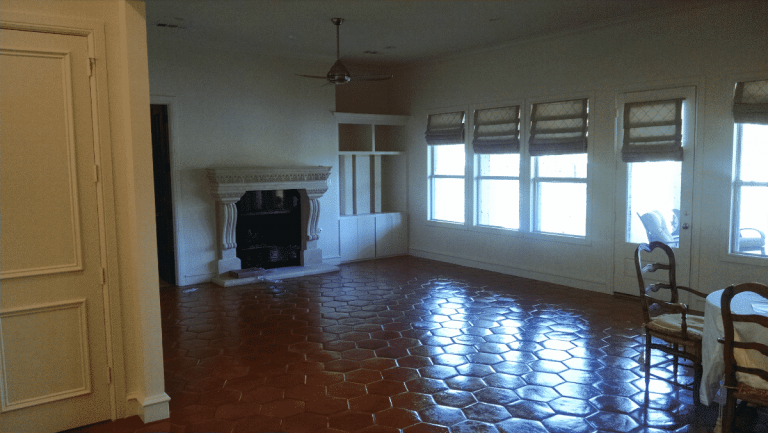 The Difference is Barrington One Construction, LLC
At Barrington One Construction, LLC we have trained and qualified floor setters that go through regular training to keep up to date on the best products and procedures as they come available. Our 2- year warranty means your tile is tested over 2 seasons which is adequate to know if it was in fact, correctly installed. 
We find most problems at the time of the estimate not after the work has started. With our methods developed over many years, you do not have to worry about loose or broken ceramic or porcelain floors anymore. Your investment is secure and you can move on to other improvements on your home.
 Sizes, Shapes and Textures
Flooring comes in many different sizes, shapes, textures, and colors. Some of the most popular tiles are;
Porcelain: 37%
Ceramic: 34%
Marble: 15%
Mosaic: 5%
Limestone: 3%
The Conclusion For Floor Installs
There are pros and cons for all materials and some need to match your specific purpose. Some tiles cannot be used for patios or shower floors where slipping and falling may occur. Finding a skilled and qualified flooring company is crucial in making sure you do not have to go through the process of reinstalling your floor multiple times. We want you to enjoy your new floor and be your tiling company now and far into the future.
Contact us today and schedule a complimentary estimate and see the Barrington One difference!