Kitchen Remodels in Southlake
Given how much time you spend in your Southlake kitchen on a daily basis, it's important that it's a comfortable, inviting space to be in. Maybe you're looking to make a few small upgrades, like painting your cabinets a different color or the changes you're seeking are more dramatic, like the installation of a kitchen island, or a complete remodel of the entire room. No matter how big or small the project! 
History of Southlake
Southlake sits in a geographic region thick with blackjack and post oak trees and artesian springs; in the 19th century, cartographers named the area the Eastern Cross Timbers. Native Americans lived and hunted in the thick forests of blackjack and post oak called the Eastern Cross Timbers, which extend in a dagger shape from southeastern Kansas through Oklahoma into central Texas. 1830′ – Mexico forbids further immigration into Texas by settlers from the United States. 1836′ – Texians win their independence from Mexico and form the Republic of Texas.
We love to serve Southlake as one of our Fort Worth surrounding service partners.
Barrington One Construction, LLC embodies everything a good remodeling company should be. We listen to our clients' vision for their kitchens, taking care to communicate clearly and regularly with them throughout the design and execution so that there aren't any surprises at the end.
Kitchen

Remodeling Planning
The first step any professional kitchen contractor should take is to sit down with the client and go over what their goals for the kitchen renovations are. Is the intention to create more natural light? To increase counter space, while also leaving room for areas for guests to gather? By focusing on the exact needs of each client, we can tailor every remodeling project to them specifically—this isn't a one size fits all sort of company!
We're committed to complete transparency at all times, so if there are any hiccups along the way or unexpected costs, we make sure to consult with you before taking action. Your satisfaction is our number one priority, and we are dedicated to exceeding your expectations with the quality of work we provide.
Southlake Kitchen Material Selections
Barrington One Construction, LLC carries quality mid-grade and high-end kitchen cabinets, countertops, flooring, faucets, and hardware. When it comes to selecting that perfect color for your kitchen design, just going into the showroom and finding the right colors and textures is not enough.
 Sure it looks great in the showroom lighting but what about your lighting in your kitchen? You will be surprised how different the colors look outside of the showroom. 
When we have a good palate of selections it's time to see how they will work with the other styles in your home under your lighting.
 Colors tend to be a bit darker and depending on the cabinet colors and flooring the just perfect countertop color might not look so good. This is why you need a company that will go the extra distance to make sure the product you end up with is the product you wanted.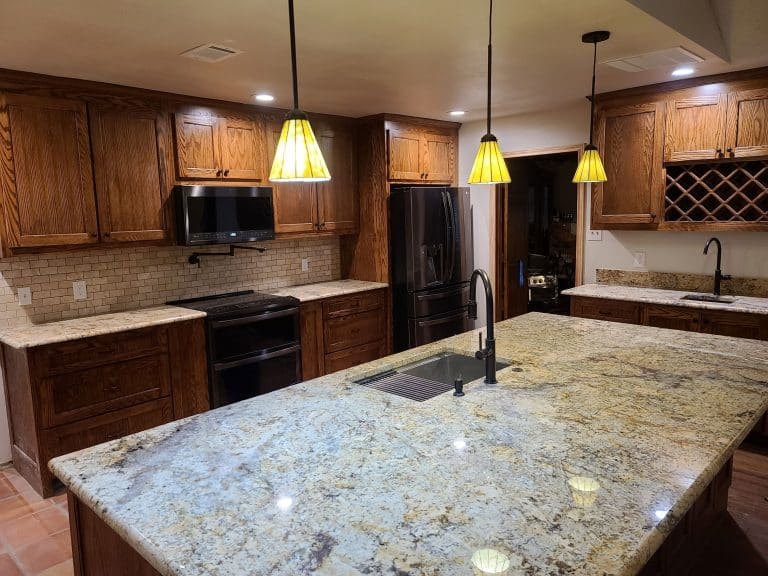 Scheduling & Budgeting
We work hard to meet the deadlines that have been set. We understand that, especially in a room that sees such high traffic like the kitchen, it can be stressful to not have full access to your home during the remodeling process. If there are any hiccups along the way, we notify you immediately, because we value your time.
Perhaps the most significant reason Southlake residents choose us for their kitchen remodel needs is that, as a full-service company, we eliminate the need to deal with multiple contractors.
When you hire us we become your go-to company for anything related to the project, so you don't have to worry about communication lines being crossed or various contractors not being on the same page. With Barrington One Construction, LLC, all your kitchen remodeling needs are taken care of by one company- us!
When you're in the market for a new kitchen, look no further than Barrington One Construction, LLC. Our skilled team is fully licensed and experienced in the work we do, so you don't have to worry about a thing! For a free, no-obligation quote, give us a call today. We look forward to wowing you with our services!